GolfMAP Market Reports
GolfMAP was designed for golf market researchers, appraisers, brokers, golf facility developers and other golf businesses. Filled with essential golf market data, the report provides a cost-effective foundation for conducting more advanced due diligence. This "first look" is intended to help our golf-knowledgeable clients identify relevant parameters about the market, especially those pertaining to the local golf facility supply and the population that is available to support it.
It's simple – you provide a location (e.g., golf facility, street address, crossroads, center of town, zip code) from which we will generate market data such as estimated number of golfing households, market rounds potential, number of golf facilities by type and price point, and a ratio of golf facilities to households available to support them.
GolfMAP Data Report
The GolfMAP Data Report includes up to three markets per location, based on mileage rings, drive time areas, county, CBSA, or state, and features:
Estimates of the number of golfing households and their rounds demand potential
Average rounds played (per 18 holes) for facilities in subject market
Proprietary NGF golf supply and demand metrics
Indices on key measures for benchmarking purposes
Profile of area golf facility supply, broken down by type and price point
Golf retail supply module with key metrics
5- and 10-year net change in supply (by # of holes)
Summary demographics, including current population, trends, and five-year projections; median age; median income; ethnicity
Estimate of market seasonal golfing households
Estimate of market 'latent demand' (number of interested non-golfers)
Order a GolfMAP Data Report
Request a Free GolfMAP Report Sample
GolfMAP Consultant's Report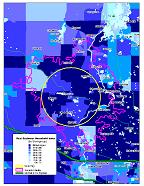 A GolfMAP Consultant's Report includes all GolfMAP Data Report components as well as:
Market summary findings by an NGF Consultant
Detailed demographics, including trends and projections
Summary of new course development activity over the past five- and 10-year periods
Complete golf facility supply listings, including address, distance from subject, type, price point, peak green fee
List of courses in planning and under construction
Complete listing of golf ranges and golf specialty retail stores
Thematic maps showing rounds potential and golfer density by block group
Supply-demand graph
Order a GolfMAP Consultant's Report
Request a Free GolfMAP Consultant's Report Sample
Last Updated: 1/8/2015 1:31:28 PM / Generated at: 3/23/2019 10:23:17 AM